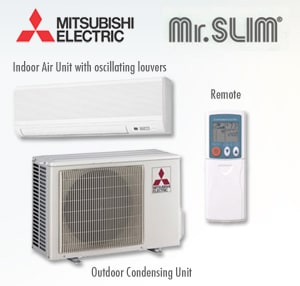 Producing air conditioning systems that are low on noise and high on performance has been a challenge for many air conditioning companies. These requirements led Mitsubishi to manufacture of highly sophisticated but tough machines and systems.
Mitsubishi air conditioners are subject to some of the highest standards of quality control in the business across commercial, residential, and industrial applications.
Mitsubishi has been making life comfortable for people ever since 1921 when the company introduced an electric fan as their first product in this area. The Mitsubishi electric fan was an enormous hit with the consumer and sales were buoyant. After this success, they concentrated on making cooling units.
Mitsubishi is a global manufacturer with established sale points all over the world. Carefully selected distributors and air conditioning companies with highly qualified installation engineers are Mitsubishi's preferred outlets. Buying a new Mitsubishi air conditioning unit guarantees extremely high standards and quality from a long-standing household name. Originally designed for the unique challenges presented by the Japanese climate, the products have evolved to operate in any given climate, anywhere in the world.
Mitsubishi air conditioning cooling units are energy effective, environmentally friendly and use latest advanced technology. In fact, Mitsubishi utilises some of the most innovative technology in the air conditioning field.
The compressor used in the Mitsubishi Electric range is a well-adjusted rotary presser. Those sorts of compressors are one of the best compressors to be found in the air conditioning market today. Each Mitsubishi air conditioning unit delivers peace of mind knowing the most recent and most innovative air conditioning technology is used. Reliability is a keyword with Mitsubishi air conditioning and evidence shows they are highly reliable even under the most extreme conditions. Every product in the Mitsubishi range comes with a three-year parts guarantee.
Mitsubishi air conditioners are pleasantly affordable today. Among the most affordable air conditioners on the market nowadays is the Mr. Slim line. The Mr. Slim air conditioner is a ductless air conditioning system and an alternative to a window unit air conditioner. It can be installed on an outside wall, above the window or any other place in room.
The Mitsubishi air conditioners are self-contained and there is no water seepage or leakage to damage walls as the design is robust and there can be no accidental outflow. The Mr. Slim air conditioners are very economical to run and use copper tubing to chill the outside air. Mr. Slim has indoor air handling unit and an outdoor condensing unit. These are very tidy and sleek wall mounted air conditioning units.
Mr. Slim has three configurations including PK indoor unit, PC model, and PL cassette model, giving you a variety to choose from that suit your décor and allows you to install a unit in any room to suit the design. Mitsubishi's inverter technology gives high speed cooling and heating controlled by wireless remote control air conditioners. Low noise levels and washable filters make the air conditioning units discrete and easy to maintain.