Why Air Deflectors?
Air Deflectors? It's all about diffusion, distribution, dispersal, the calm and comfortable direction of airflow around your working space. No more chilly patches, no more draughts, no more hot spots, no need to reconfigure or even replace your AC to get the very most from your AC investment. Just even, consistent and comfortable coverage.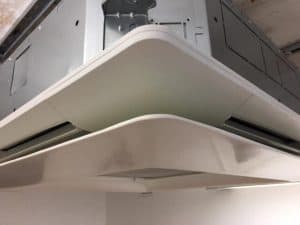 And because not everyone in your office will want the exact same temperature or the exact same airflow Air Deflectors are a great way to give your team exactly what they do want. For everyone to feel the benefits of Air Conditioning.
Maximum comfort. Minimum disruption.
In truth though there's much more to air deflectors than added office contentment (and productivity). The right Air Deflectors, fitted correctly by the right AC team can also help you conserve energy and save money too.
Comfort? Cost control? What's not to like?
Find out more on 020 7870 2333.
What are Air Deflectors?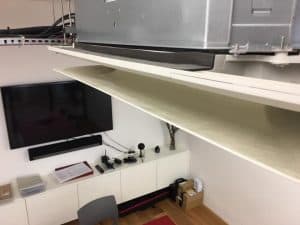 You've probably already seen (and benefitted from) Air Deflectors fitted to standard ceiling mounted air conditioning cassettes in offices, meeting rooms and reception areas without even realising it. Fibreglass or polycarbonate, modern Air Deflectors are both versatile and long lasting meaning you won't need to keep replacing snapped, cracked, warped or tired fittings. They also look great and come in 2 sizes to fit the 2 sizes of modern AC ceiling cassette units.
How do Air Deflectors Work?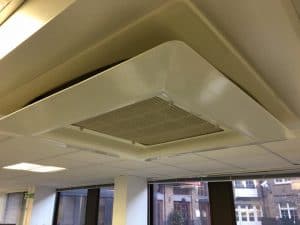 Fixed directly over your air conditioning cassette units they carefully channel airflow as required, directing warmth and cool as preference dictates to avoid unwelcome chilly downward draughts in the summer or gusts of 'over warmth' in the winter. Good for all.
Time to take closer control of your working climate?
Maintenance
Other than a little light dusting once in awhile air deflectors require no maintenance whatsoever. It couldn't be simpler. And they don't even need to be removed when it comes to maintenance or servicing of the AC unit itself.
Again. Minimum disruption. Maximum comfort.
Could your AC be a kinder, calmer, better balanced ambient experience for your teams?
Then here's a quick, cost-effective answer. Air Deflectors.
Quick Installation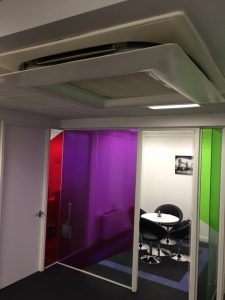 Less a case of whether Air Deflectors can help you get the very most from your AC more a case of how best to go about putting those benefits in place. To choose a reliable, experienced and expert provider.
With hundreds of Air Deflectors already deployed for dozens of dleighted customers you need look no further.
Time to share in the AC benefits that many of our clients already enjoy?
For more information on costs, creative ideas on installation and convenient timelines talk to us today on 020 7870 2333.